Custom Home & Building Designers Newcastle
Create something truly unique with the leading building designers in Newcastle
Over 20 Years Experience
Multi-Award-Winning
Residential & Commercial Design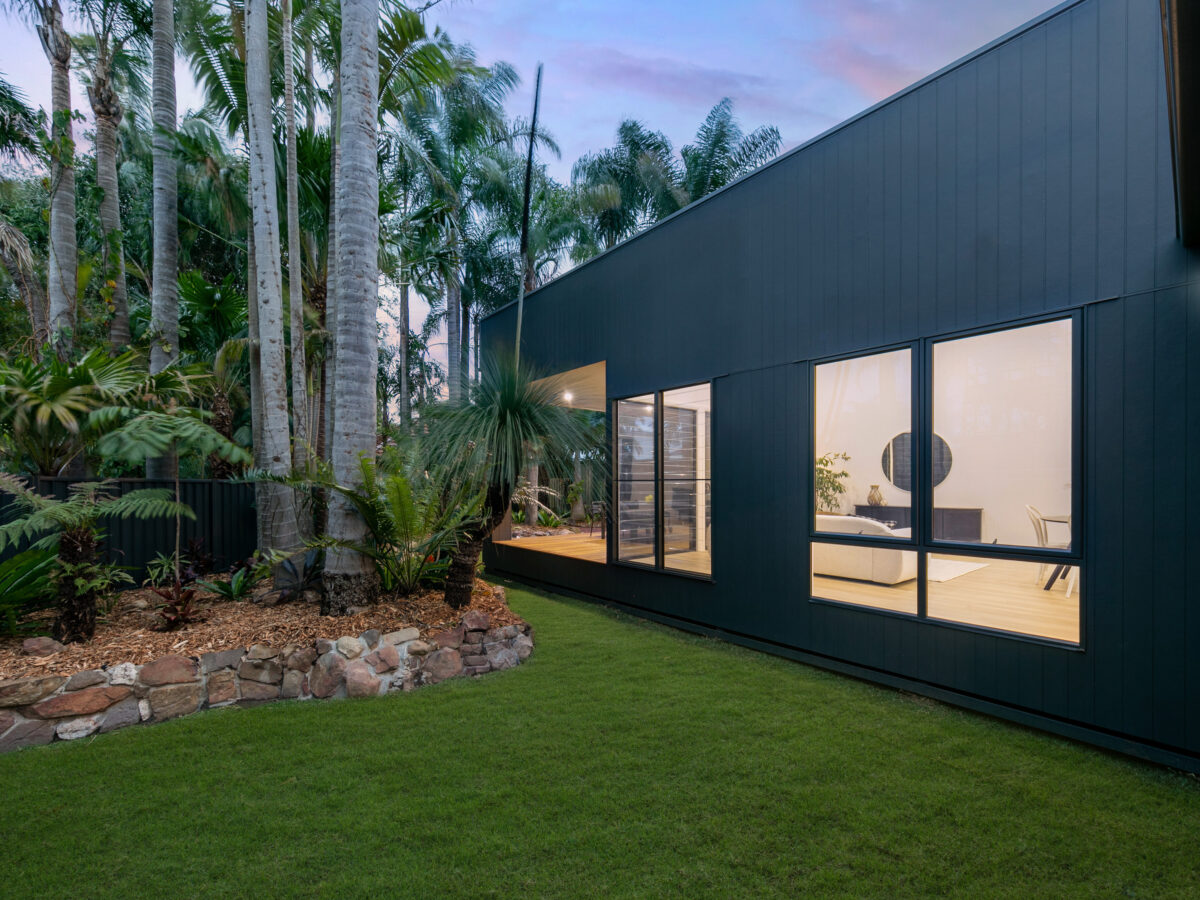 We've been committed to providing the highest quality home and building designs in Newcastle for over 20 years
At Sorensen Design, we've been transforming homes and businesses throughout Newcastle and the Central Coast since 2002.
Over the last two decades, we've built an experienced, reliable team of construction specialists and building designers in Newcastle NSW, all committed to achieving the best possible outcome for your project. Thanks to this unwavering commitment, we have been recognised for the work that we've completed and won various awards and commendations from the Building Design Association of Australia and the Housing Institute of Australia.

At Sorensen Design, our building designers in Newcastle will go above and beyond what's usually expected of our profession to ensure you are satisfied with the final result of our project.
We offer a wide range of residential design services, including Newcastle home designs, granny flat designs, renovations and extensions, along with reliable commercial services like building design and town planning. Our team will take on building design projects of all shapes and sizes — no job is too big or too small for our team of committed and experienced building designers in Newcastle.
Get in touch and discover how Sorensen Design can help achieve your construction goals.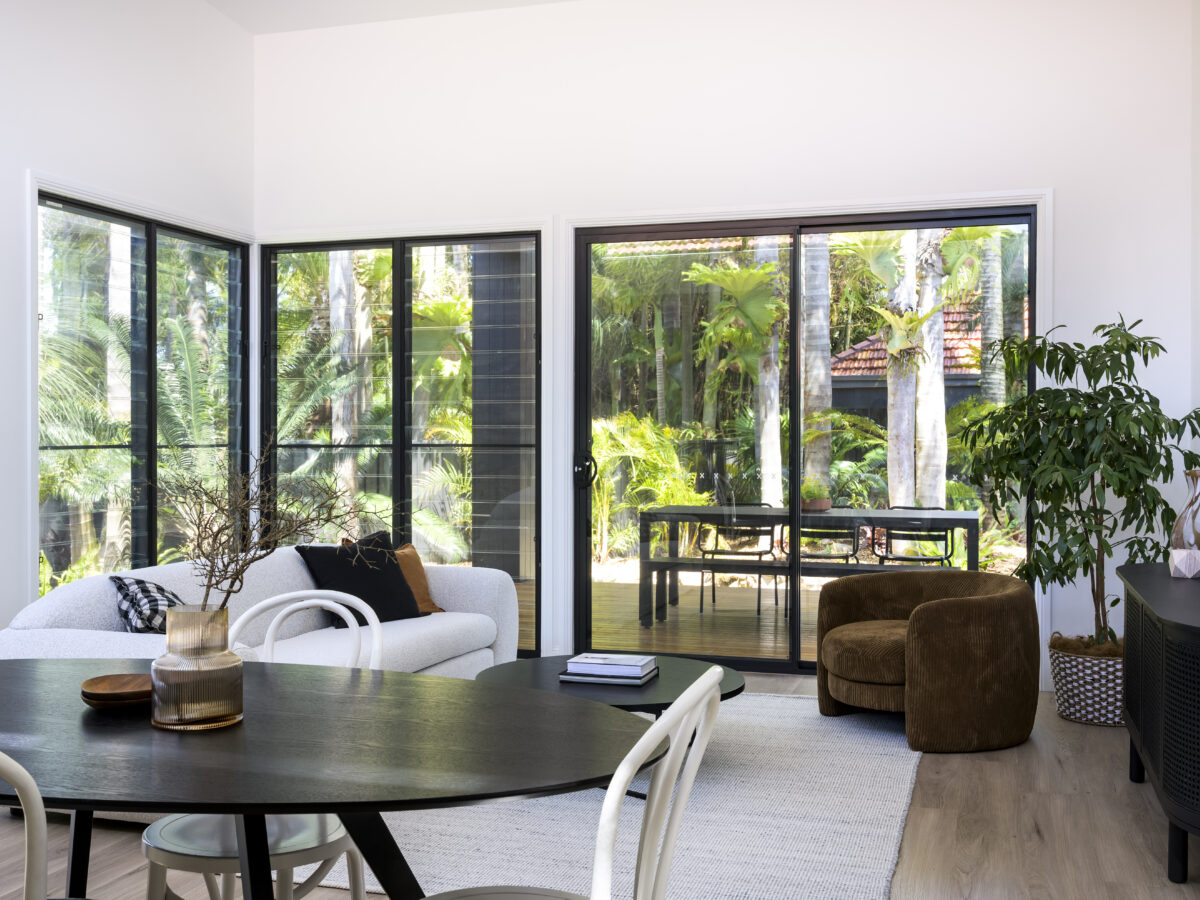 The benefits of choosing Sorensen's building designers in Newcastle
Sorensen Design is an award-winning team of home and building design specialists. Our firm came from humble beginnings — in fact, Sorensen Design & Planning Pty Ltd started life in a spare bedroom. Now, our locally owned and operated business has expanded to Port Stephens, Newcastle, Singleton, Sydney and surrounds, allowing us to serve more home and business owners in the area.
Whether we're providing drafting services for a small deck extension or designing and drafting plans for the largest, most prestigious homes, we give each and every project the utmost care. Discover the benefits of choosing Sorensen Design for your new building design in Newcastle.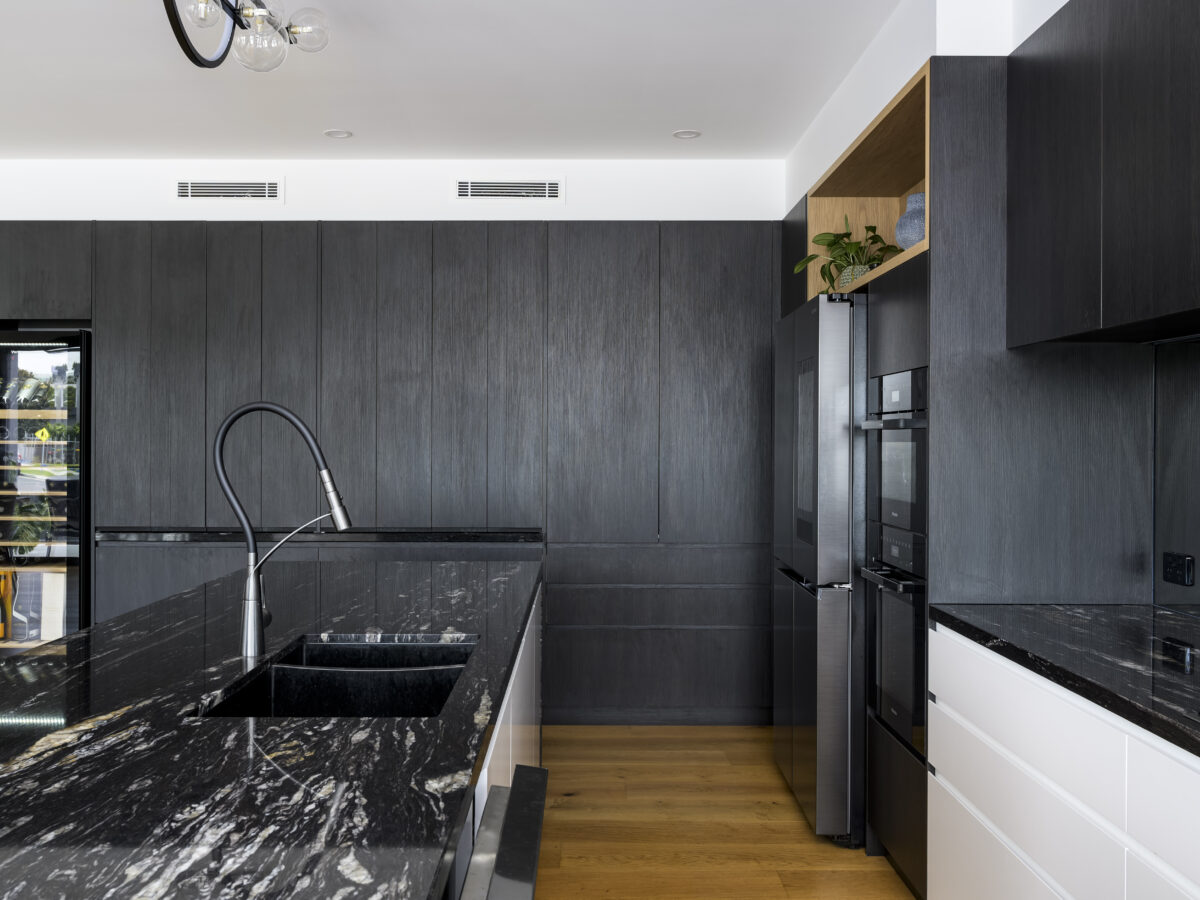 Newcastle's home design, renovations and extensions specialists
Planning a new home build or a renovation project is a life-changing experience. It's exciting, stressful and complicated all at once, and we believe the process should never be rushed. With this in mind, our team will take on your Newcastle home design or renovation project with the utmost care, commitment and attention, guaranteeing a desirable outcome for your new (or improved) home.

We understand that all homeowners have different requirements and their own unique sense of style. Our team will work in line with your budget, your timeframe and your style requirements to make the building and design process both flexible and relaxing. From planning to design, council approval and construction, our team will be with you every step of the way, delivering a stress-free building experience.
Contact the team at Sorensen Design in Newcastle for an obligation-free quote and consultation. Our team will organise a time to complete a site inspection and determine what is achievable with the existing block.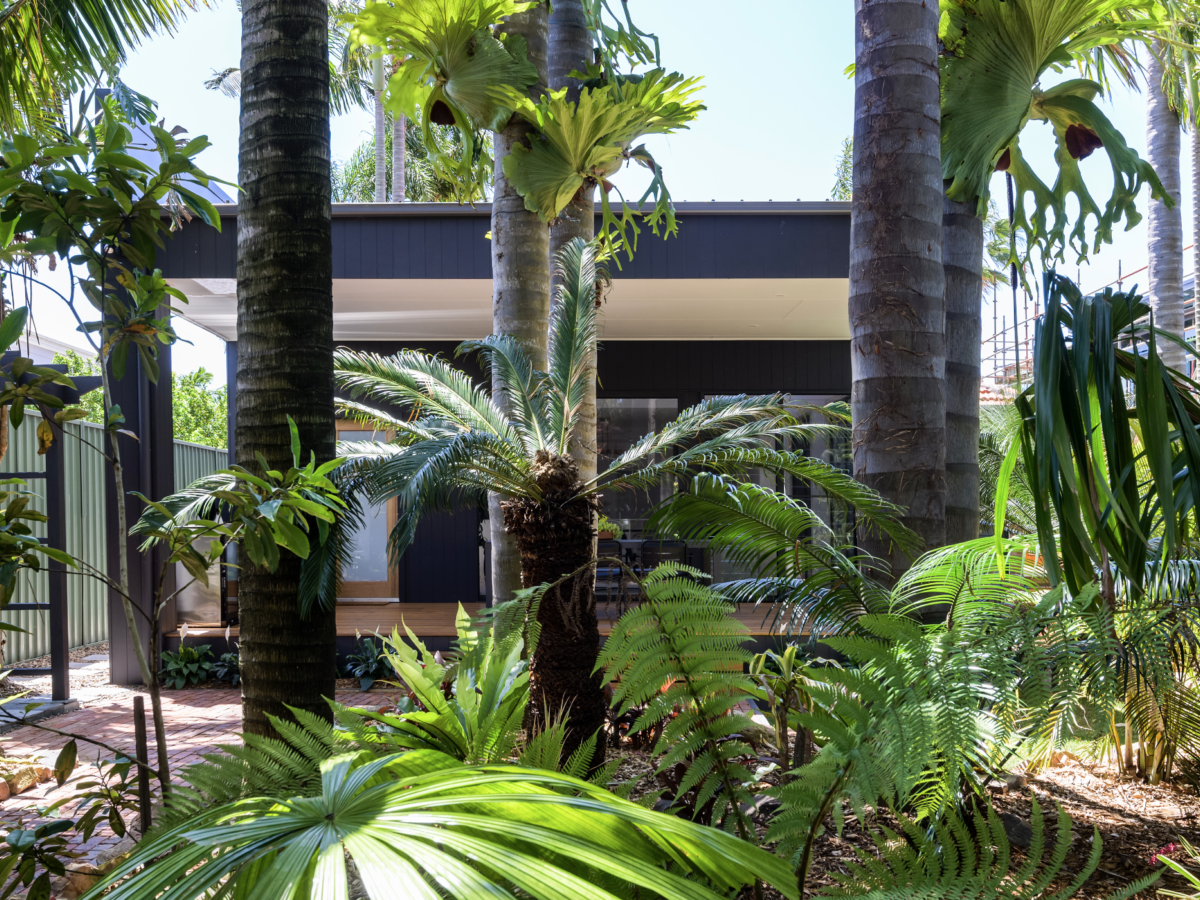 The Newcastle town planning team you can trust
Along with our award-winning Newcastle home designs and renovation projects, we also provide professional town planning services. From the Newcastle CBD to commercial complexes, residential spaces, and recreation areas throughout the Central Coast, we take a sustainable and holistic approach to our various town planning projects.

Our approach to town planning is ethical and environmentally friendly. Our goal is to protect the natural environment while making Newcastle and the Central Coast beautiful, functional places to live.
Whether you're looking for commercial services or a trusted Newcastle home design team, Sorensen Design is your number one choice in the area. Contact us today. We'll complete your project on time and on budget.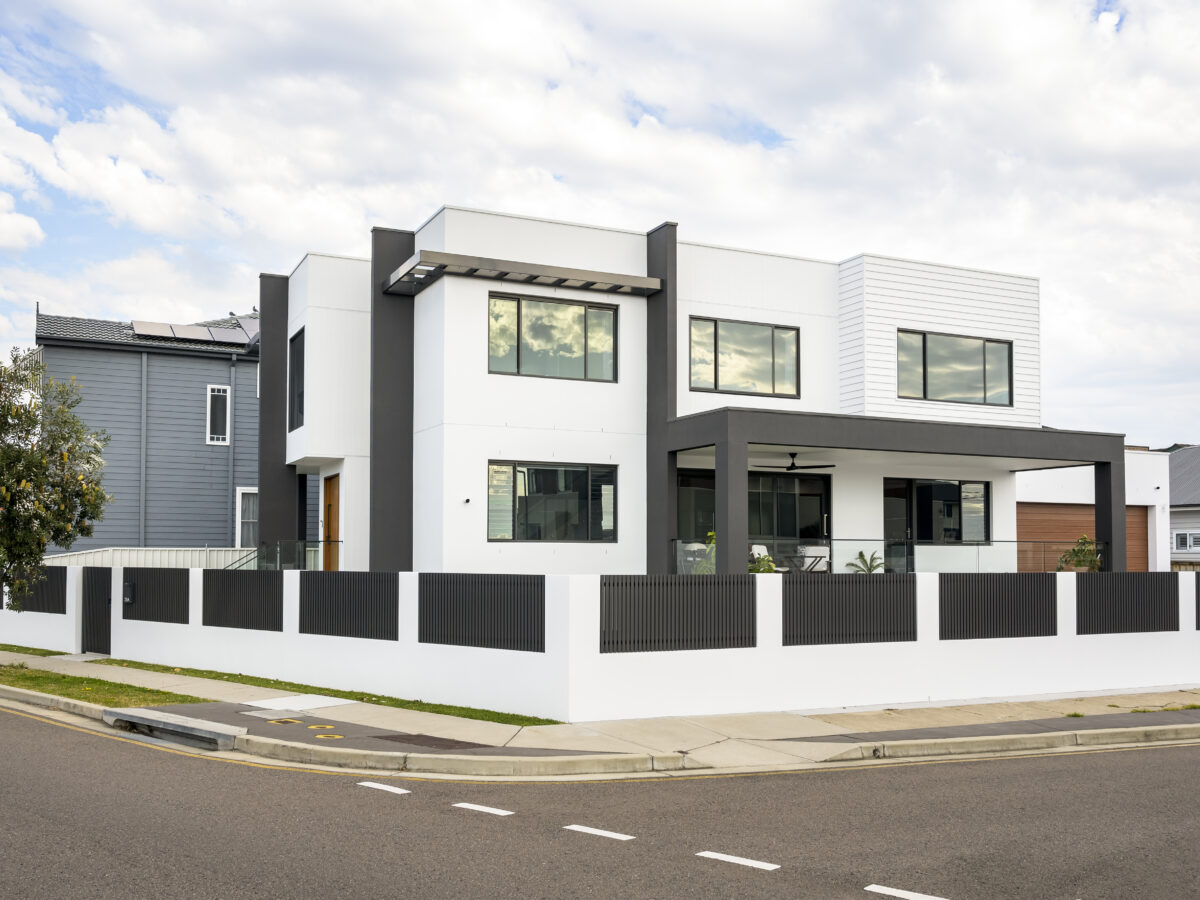 Why Design With Sorensen Design?
Sorensen Design & Planning are national award-winning building designers and have been established since 2002.
We're the specialists when it comes to custom home designs in Newcastle. Our professional and accommodating team will ensure a relaxed, stress-free building and design experience that results in your dream home — we'll take care of all the council approvals and communication with other consultants like structural engineers, building certifiers and home energy specialists.

As our client, all you have to do is sit back and watch your home building aspirations come to life. We'll keep you updated every step of the way so you can rest assured that we are keeping to the budget and the approved plans.
Contact us for an obligation-free quote and consultation today!
What clients are saying about our building designers in Newcastle
"I have used Sorensen Design for multiple projects in the Port Stephens area. From the inception of a project through to completion, Sorensen provides an incredible service. The entire team is extremely knowledgeable and ultra-professional. Thank you to Adrian, Madison, Scott and Mark for ensuring my projects become a reality."
— Daniel C.
"I would highly recommend the team at Sorensen Design. Adrian and Scott were sensitive to the heritage requirements of this property and were a pleasure to work with. The brief was far from straightforward but their professionalism, expertise and hard work ensured it ran smoothly. We couldn't be happier with their design for the original building as well as the contrasting modern addition. Thank you!"
— Jane W.
FAQs about building design in Newcastle
It all starts with a simple phone consultation with a member of our building design team. After submitting a quote or contact request online, our team will be in touch to discuss your building requirements and design aspirations, whether you're looking to renovate or extend, build a brand new home or kick off a commercial building project.
The next step is to book a site inspection before drawing up the designs. We will complete an in-depth analysis of the block including the slope, the soil type, the width and length of the block and any environmental factors that may hinder the project. We do this to determine what is achievable on the block.
If you would like us to complete a renovation or extension project, we will also examine the structural integrity and history of the existing building. We offer the utmost respect and care for heritage-listed buildings to ensure we preserve the historical and cultural value of the property.
Then it's on to drawing up the designs and gaining council approval for construction to begin! We will communicate with all other parties (e.g. building certifiers, council representatives) on your behalf. You can sit back and relax as your home building aspirations come to life.


We have won a vast number of awards for our house designs in Newcastle! We have been recognised on a number of occasions by prestigious organisations like the Building Designers Association of Australia and the Housing Industry Association.
BDA 2008 Commendation Award (Residential Alterations & Additions over $200,000)
BDA 2009 Commendation Award (Residential Alterations & Additions over $200,000 / Residential Interiors)
BDA 2010 Commendation Award (Residential interiors / Bathrooms)
The 2010 and 2011 HIA Award winner for Residential Building Designer of the Year
The 2011 ABODE House of the Year Awards
BDA 2011 Design Awards Winner (Bathrooms / Kitchens)
BDA 2013 Commendation Awards (New Single Residential Buildings up to $2000m2)
BDA 2015 Design Award Winner (Dual Occupancy)
BDAA 2019 National Design Award Winner (New residential buildings over 450m2 and under $2,500/m2)
BDAA 2021 National Design Award Finalist (New residential buildings over $500,000 up to $750,000)
We offer a wide range of services in Newcastle including building design, new house plans, duplex designs, childcare centre design, town planning, renovations and granny flat designs. These services are available in Newcastle, Maitland, Port Stephens, Lake Macquarie, the Central Coast and the Hunter Valley.

Yes! We're proud of our completed commercial projects and new home designs in Newcastle, which is why we share our projects online. From new dwellings to commercial and industrial projects, additions and alterations, and more, we've completed hundreds of projects throughout Newcastle, Lake Macquarie, the Central Coast and the Hunter Region!

Before we start seeking council approvals and commencing the building process, we will create a 3D render of the proposed home design, extension or renovation. We will present this to you in person and provide you with a copy for consideration. From here, we will make adjustments and changes to the design based on your personal preferences and requirements.
We will never start building without your express consent.
We use licensed copies of Archicad software so we can produce high-resolution 3D images of the proposed project. You will be impressed with the level of detail we deliver to ensure you are 100% satisfied with the design.

No. At Sorensen Design, we take care of all council approvals and communication with third parties. We are very familiar with council requirements, lodging development applications (DAs) and engaging subcontractors and consultants to work on your project (e.g. structural engineers and surveyors).

Yes. We take on projects both big and small, whether they're residential, commercial or industrial. We can provide drafting services for small deck extensions, large prestigious homes, units, duplexes or commercial projects. Our team will expertly handle the entire planning and design process on your behalf.
Absolutely. All of our building and design experts are qualified and experienced in residential, commercial, industrial and town planning projects. In 2021, we were approved as an Accredited Open Building Designer by the Building Designers Association of Australia (BDAA). This is the highest level of qualifying accreditation and approves our firm to practice:
The design and documentation of all Classes and Types of buildings as defined by the National Construction Code series/Building Code of Australia classifications. Additionally, low rise and medium-rise constructions.
We are also approved by the NSW Department of Family and Community Services and accredited to design child care facilities and services.
It depends on the project type, the scale and the complexity of the project. No two projects are ever the same — however, we will be able to provide a timeframe after we have completed a site inspection, completed the design and booked various subcontractors and consultants to complete the build. We will keep your schedule in mind throughout the process without compromising on quality.

Again, it depends on the type of project at hand. For example, if you're looking to complete a large-scale renovation or extension, you might choose to move out while construction is underway. Living in the middle of a building site is not for the faint of heart!
It's not uncommon for our design aspirations to venture a little over our price range, which is why communication is key when it comes to planning. During our initial consultation, we will discuss your design requirements, what "the dream" is and what kind of budget we have to work with. After the site inspection, we will be able to provide a realistic estimate of costs to complete the project.
If the estimate is over your preferred budget, our team will provide solutions and recommendations to make sure you receive the result you desire.

Absolutely. We have completed various heritage projects in the past where alterations and approvals were complex — however, we were always able to find a solution that preserved the historical value of the property.

During our initial consultation, we want to know what your goals are. We want to hear about your "must-have" ticket items, your budget and what kind of services you think you'll need. If possible, bring along photos, drawings and other forms of inspiration for the project — what have you seen that you've liked? This will help us draft designs for your approval.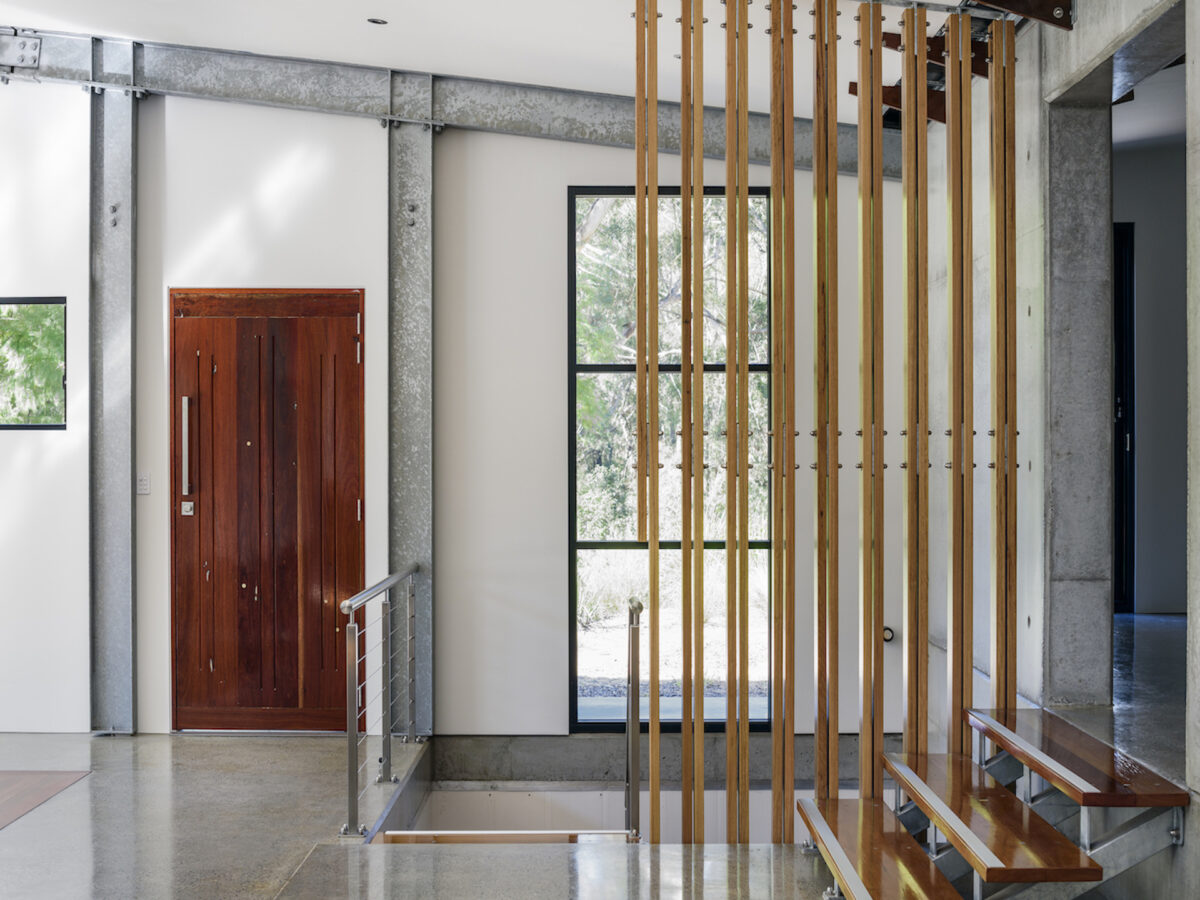 Contact our professional building designers in Newcastle for a free estimate
At Sorensen Design, no project is too big, too small or too complex for us. Our building designers in Newcastle will approach your project with the utmost professionalism and attention to detail, ensuring you walk away with your dream home or a functional public building.
We only take on a certain number of clients to ensure we give your project the attention it needs for success. Contact us for a free quote and consultation — our team will complete an in-depth site inspection and provide a realistic estimate for the project at hand.

Alternatively, contact us for more information about our services. We can provide recommendations and advice to help achieve your design and construction goals in Newcastle.
No matter where you are in your building journey, Sorensen Design & Planning is committed to making the process simple and stress-free.
Benefits of designing your home with Sorensen Design
Multifaceted Building Design
Affordable Options
3D Photo Montage Function
Multiple Locations
Trustworthy & Dedicated Specialists
Onsite Inspections
Custom Designs
Award-Winning Team
Make An Enquiry To Find Out More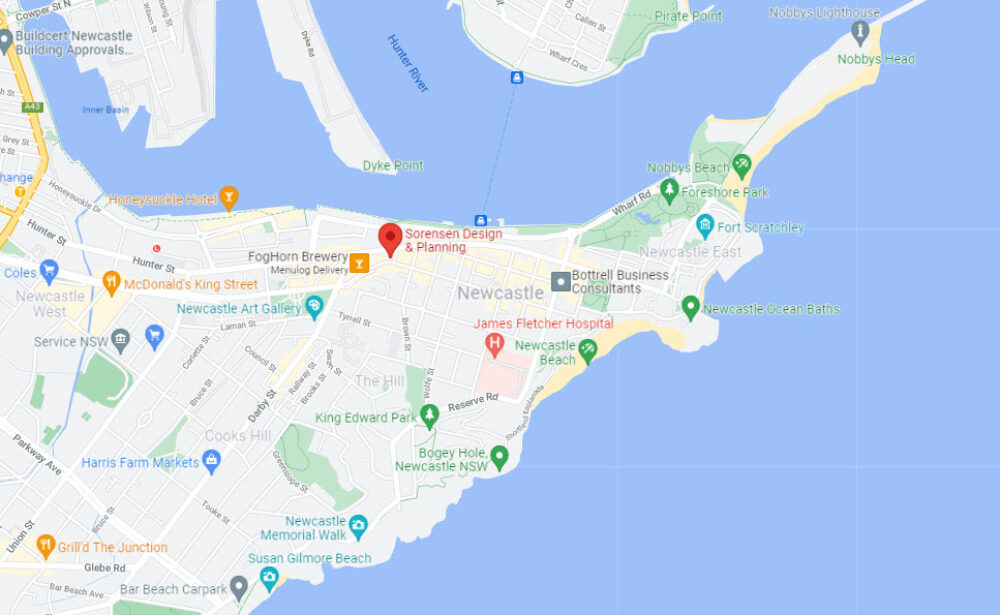 Where We Service in Newcastle
Newcastle, the Hunter Valley, Port Stephens and Lake Macquarie. To find out how Sorensen Design can help with your project, contact us today.
Get a Free Estimate
Whether you need our design services for a new home, commercial premises or anything else, we can do whatever you require.